Ahoy Matey!
The crew is made up of young people aged between 20 and 24, working or studying in Switzerland. For most of them, it was their ties with Brittany and Normandy that initially drew them to the ocean. Today, it's above all a breath of adventure and a love of science that has brought them this far!
During the Atlantea expedition, there will always be between five and six people on board. Four crew members will make the entire voyage, while the others will take turns at the halfway point.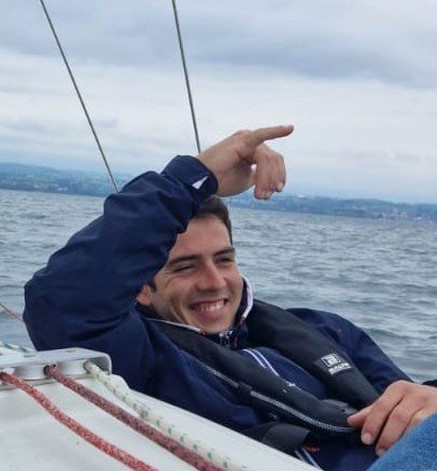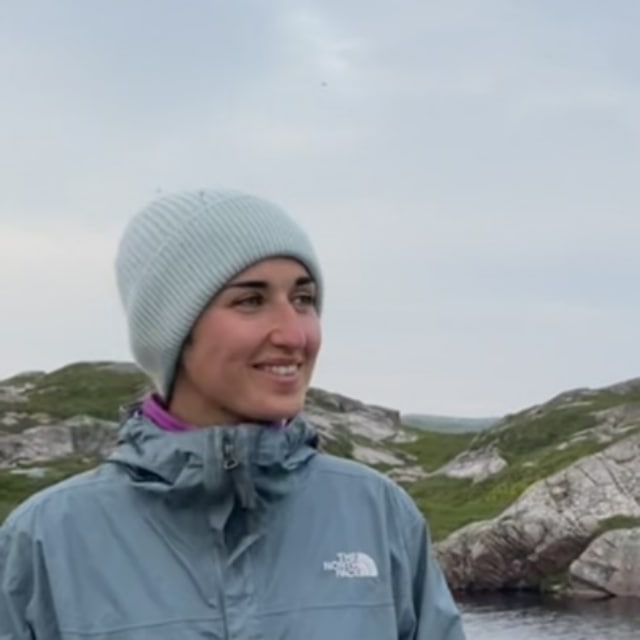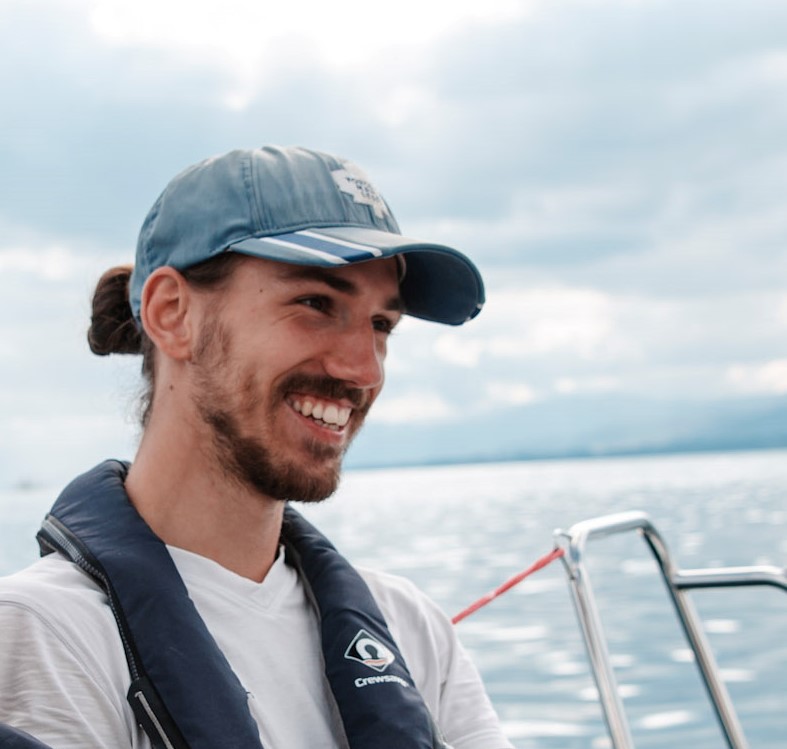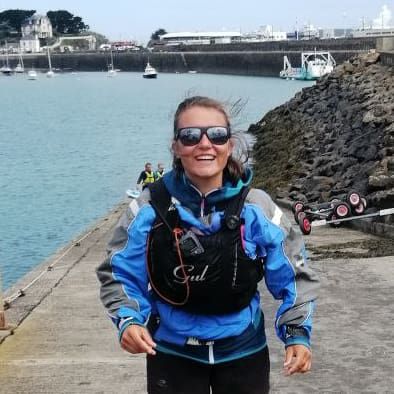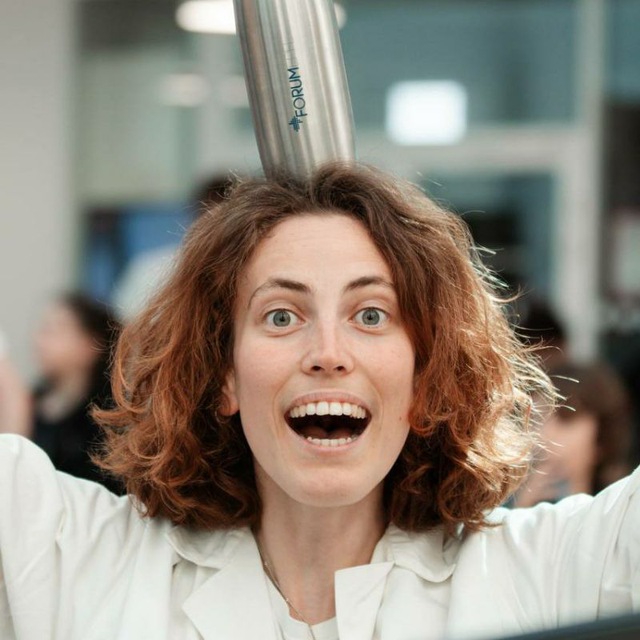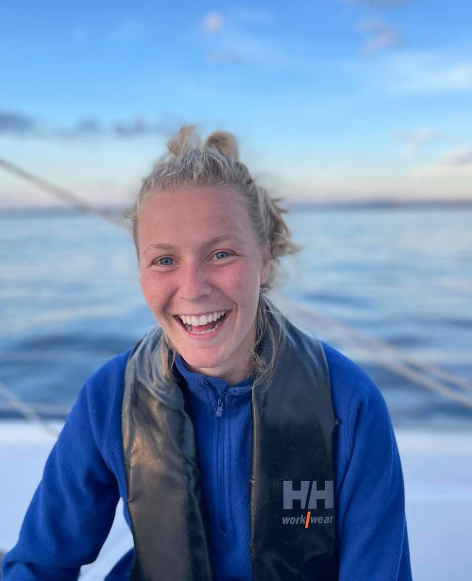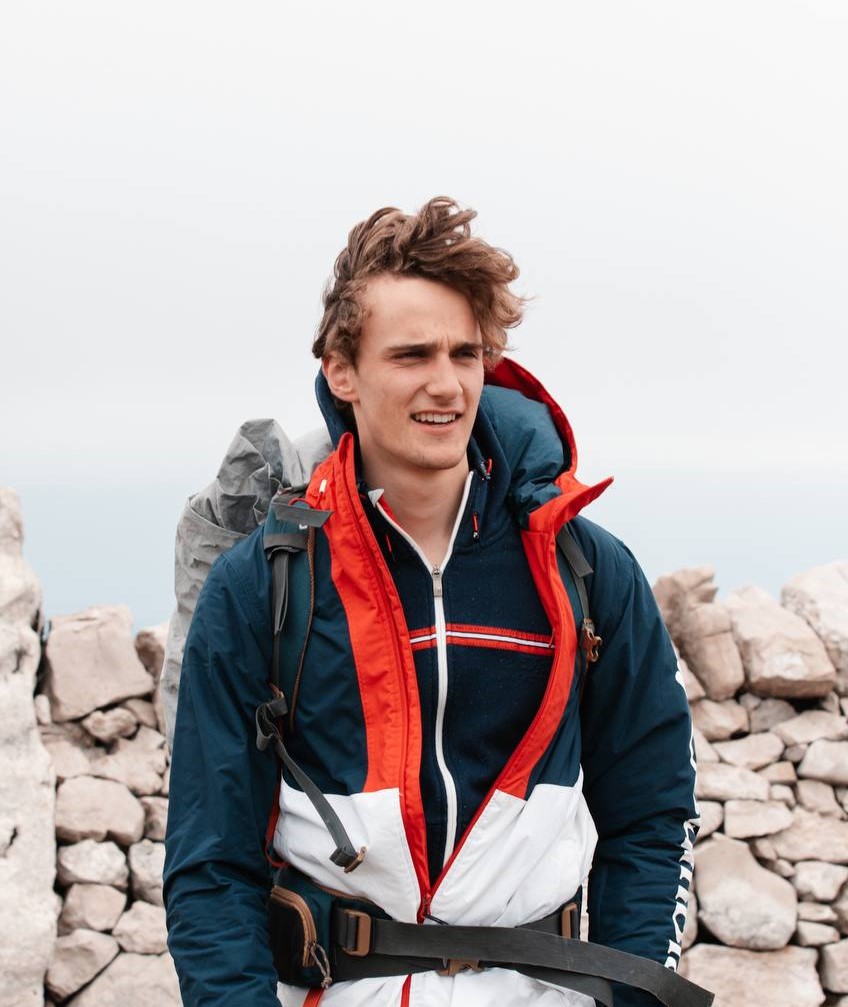 Our router and boat owner: Romain!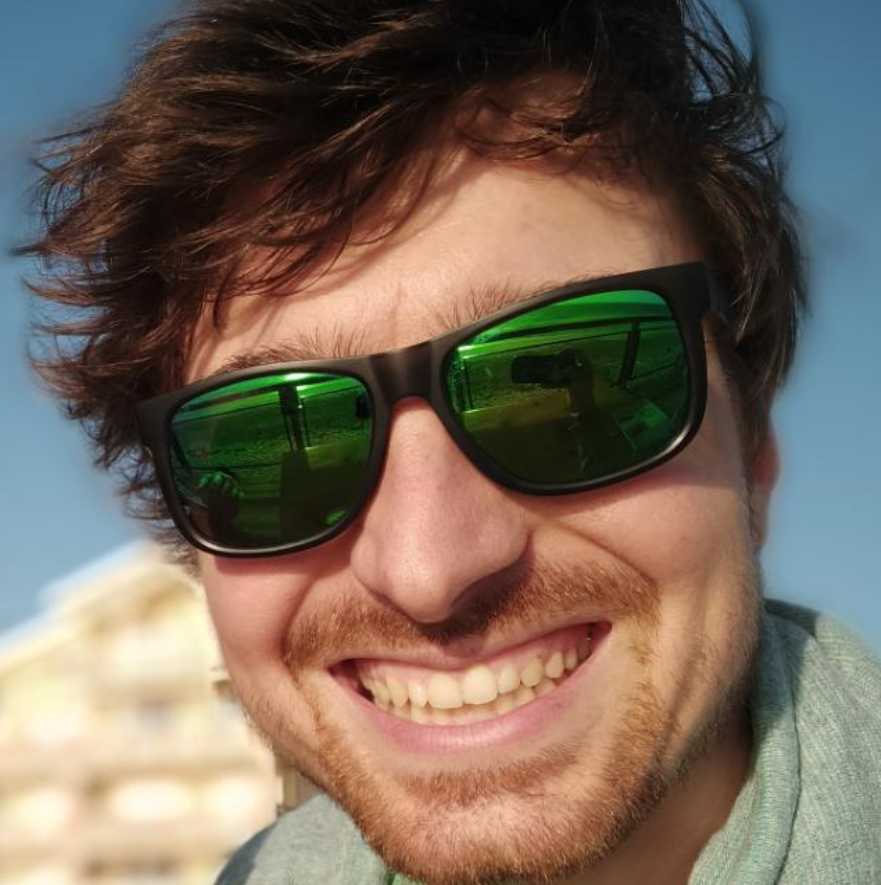 Romain Bazile is a native of Toulouse and founder of the Ocean Trotter association. Through this association, he lends his sailboat Carlina to projects that combine science and awareness-raising. During the year, he advised us on the budget, the technical preparation of the expedition and the administrative aspects associated with the trip. During the expedition, Romain will be our router and one of our main points of contact on land.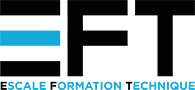 Escales Formation Technique is the center that trained the crew in meteorology, safety and survival procedures, deep-sea medical, mechanics and electricity, with applied exercises and a solid foundation for serene navigation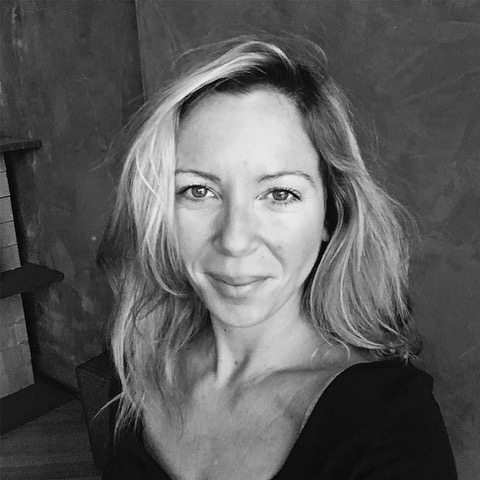 Ophélie Schneider and Laurence Chapuis are sports psychologists who trained the crew in managing on-board stress, crew interaction, communication, responsibility and space. These training sessions enabled the crew to reflect on deep-rooted issues and learn to better understand themselves and others.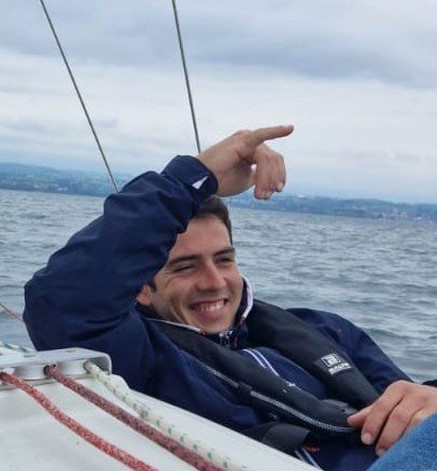 Yann-Arthur Furet
Onboard role : Captain
Boarding: Permanent
My name's Yann-Arthur, but you'll hear the nickname Yana more often. It's more practical!

I'm from Binic, a small town in the Côtes-d'Armor region of Brittany. I've been sailing all my life! From fishing to cruising and racing, I ended up making it my profession. I started out as a seasonal worker, and now I'm a year-round sailing instructor and trainer on Lake Geneva.

Whether in Brittany or Switzerland, I love to wander in the most inaccessible environments, where nature is in its raw state. Climbing the highest peaks, diving the depths of the oceans or seeking the horizon of the open sea, I'd like to be able to go anywhere and share this passion by facilitating environmentally-friendly exploration.

And when I met Margot, my interest in science was awakened. In the end, it's a different approach to understanding these environments that need to be protected. I said to myself: why not help scientists explore extreme environments and do field science in safety?

The Atlantea expedition is the perfect opportunity to get started!
 Coming from the vineyards of the Beaujolais region, nothing could have predicted that sailing would become an integral part of my life! However, it was at the age of four that I discovered this sport at the Centre Régional de Nautisme de Granville (CRNG) and how important for me of these sensations were, and the contact it offers with Nature. I returned every summer as a trainee, assistant instructor and then instructor! Last year, I discovered cruising by sailing between the United States and Newfoundland. I'd been dreaming of it for a long time, and this initiation made me want to go further! The Atlantea expedition celebrates the 20th anniversary of my first hoisted sails, but also my first year as a young graduate engineer in Life Sciences and Sustainability.

My studies at EPFL were motivated by a desire to understand the living world and try to cure some of its ills. Although I was thinking of going into neuroscience, I became increasingly interested in global issues and their social, geopolitical and, sometimes… spiritual complexity. I felt the need to bring my studies closer to my passions, in line with enduring values. What I particularly like about Atlantea, and Sailowtech too, is the interconnectedness of our missions and the optimism generated by this move into action. I felt solidarity and gratitude on all levels (scientific, friendly, educational, nautical, environmental…) during the organization. Federating around a common challenge is powerful! 

I can't wait to spread this motivation among the crew and everyone following us!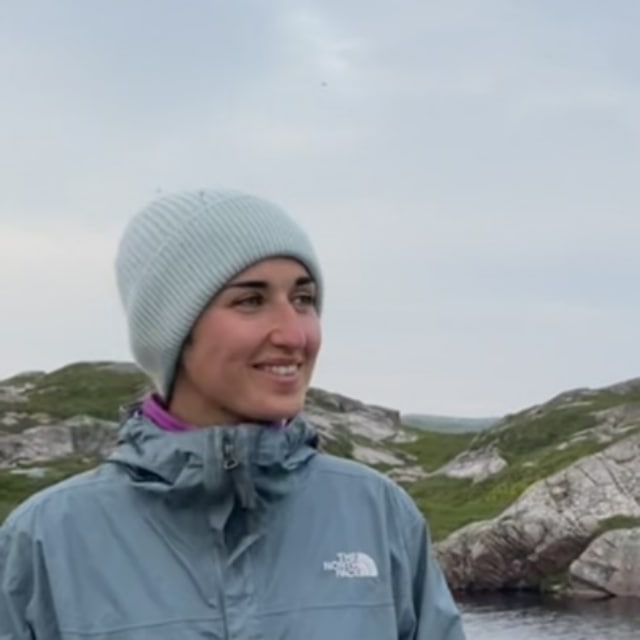 Andréa Montant 
Onboard role: Second and Communications Manager
Boarding: a year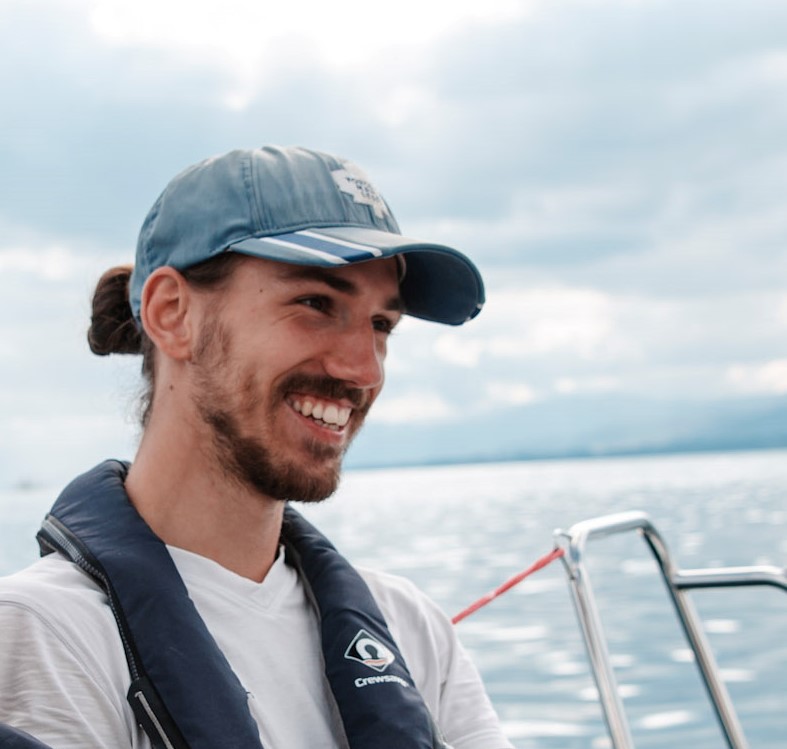 Thibault Touzain
Onboard Role: Treasurer and intendant
Boarding: Permanent
Thibault is an EPFL environmental engineer specializing in energy policy and environmental impact assessment. Growing up in Nice, the sea was never far away and the swimsuit was rarely dry! But my interest in sailing and the ocean came gradually, through family cruises on sailboats and surfing holidays in the south-west of France.

With my strong sensitivity to social and environmental issues, the further I got into my studies, the more I was forced to ask myself a fundamental question: what kind of life can I lead that is in line with my values? The encounters I had with people nurtured this reflection, culminating in a concrete project: Sailowtech. Science, awareness-raising, low-tech philosophy, all spiced up with sailing adventure. I think it all adds up!

In Atlantea, I'm particularly interested in experimenting with a radically sober way of life, more connected to the elements, that gives time to think and cultivate human relationships. Of course, it's a source of great pride for me to contribute to the advancement of frugal and committed science, and I always enjoy passing on my passion for natural phenomena.

An extrovert and follower of the Toltec Agreements, I'm also the expedition's treasurer / intendant! Yes, you can be a ball of energy and still like your accounts to be well done! "Good accounts make good friends", and I have every intention of making good friends.
Margot, 20 years old, finishing her Bachelor's degree in Life Sciences Engineering at EPFL. I was born in Tunis and traveled a lot in my early years before settling in Brittany, where I discovered sailing thanks to my Breton great-grandmother. Sailing is a family affair, and there are certainly a few genes that have found their way to me!


I started out with the Optimist, then tried my hand at other types of craft, from catamarans to Surprises, windsurfing, 420s and even diving! I was a summer sailing instructor at the Pôle Nautique Sud Goëlo in Saint-Quay Portrieux. This nurtured a passion for passing on and sharing the beauty of our marine environment, as well as the adrenalin of connecting with the sea.


It was also the fundamental and inspiring encounters I had as a child that gave a framework to this unconditional love of adventure and the ocean, and above all a deep desire to devote my life to it.


For me, Atlantea represents an incredible human adventure in the service of a cause that I believe to be just and laudable: the deployment of respectful, ethical and responsible science. Secretly, it's also another temporality I'm looking for, the means to cultivate a peace and calm that would enable me to continue expressing myself through other means: writing, drawing and other artistic whims! And of course, I won't be leaving without my flippers!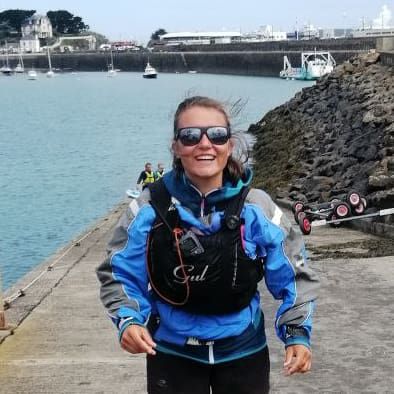 Margot Romelli
Onboard Role: Scientific Coordination and health referent
Boarding: Permanent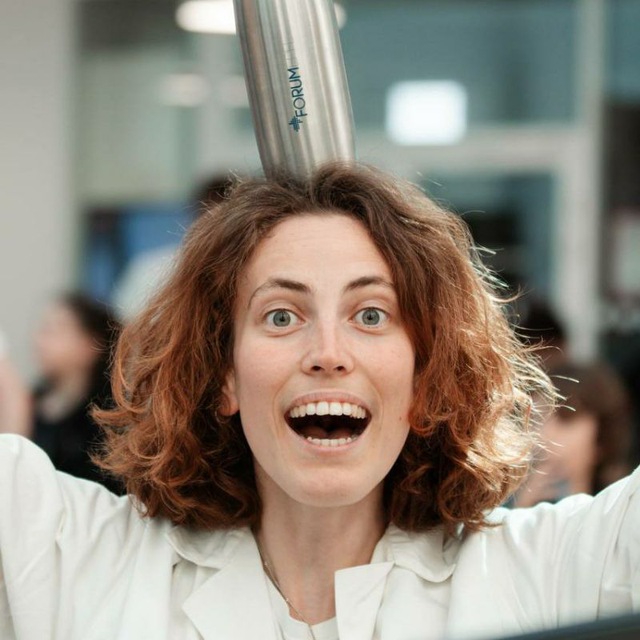 Lola Pricam
Onboard Role : Everything
Boarding: 9 months from January 2024
I'm Lola! Despite my Norman origins, I grew up surrounded by mountains, in Thoiry, a small town in the Ain region near Geneva. I've only been discovering the world of sailing for a year now, and it's fascinating me more and more! It's where I rediscover my desire to observe and understand nature. Today, at the age of 23, I'm pursuing this passion through my studies in environmental science and engineering at EPFL. For me, this understanding is what enables us to better preserve this environment, with its ecosystems and biodiversity. When I discovered frugal field science with Sailowtech and now its Atlantea expedition, I was immediately very excited, because it's totally in line with my personal convictions.

Sailowtech also introduced me to the world of low-tech. I was instantly hooked, because it's a philosophy of life and an approach that resonates completely with me. It questions our needs, advocates sobriety and autonomy, while integrating a social dimension.

I can't wait to share in this adventure!
My name is Servane, Parisian by birth, but Breton at heart! My passion for marine biodiversity began with simple animal documentaries and was confirmed by diving and an introduction to sailing. I spent two months in Norway, aboard a sailing boat, with the "In The Same Boat" association: two months during which I collected hundreds of kilos of garbage every day, littering the Norwegian coastline. This life-changing experience, my amazement at nature and my taste for community life have only confirmed my desire over the years to get involved in a project to better protect the marine environment. I have a Bachelor's degree in physics and a Master's degree in computational sciences from EPFL. My aim is to use computational science to protect marine ecosystems.

Taking part in a scientific expedition aboard a sailing boat is a childhood dream that I'm lucky enough to realize at just 24 years of age. Passing on my passion to younger people is another source of motivation. Raising awareness of the beauty of life beneath the surface and its key role in our daily lives is an urgent necessity! Finally, I love meeting people, living in a community and developing strong human relationships. I'm convinced that Atlantea will make all this possible!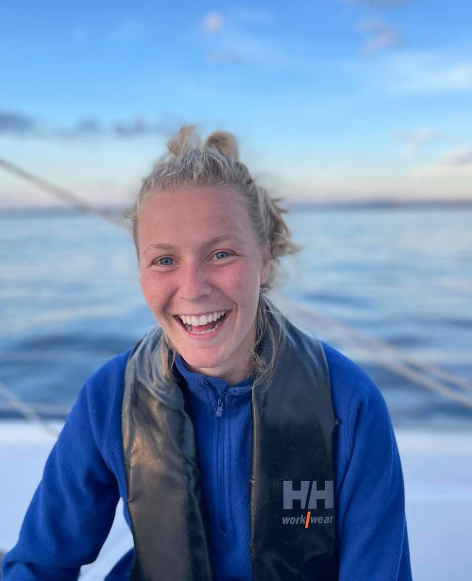 Servane Lunven
Onboard Role: Everything
Boarding: 3 months from october 2023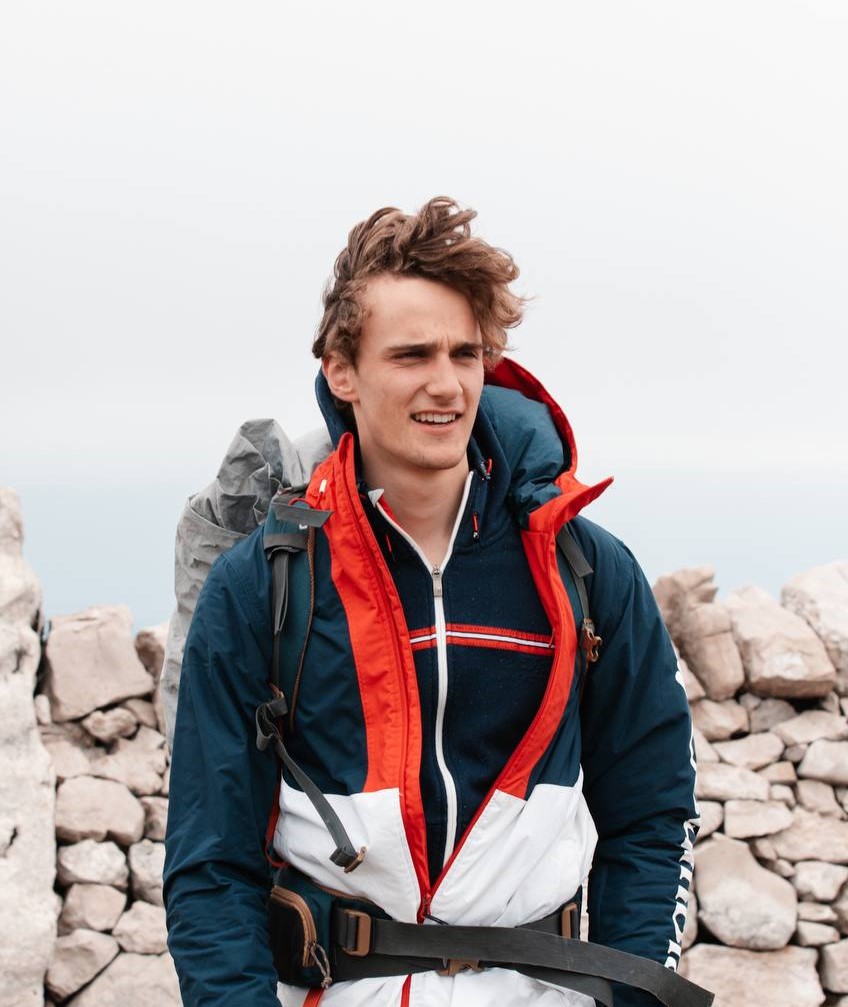 Hugo Trombert
Ondoard Role: Everything
Boarding: 6 months from April 2024
My name is Hugo, I'm 21 and I'm studying for a Master's in Mechanical Engineering at EPFL. What drives me in this project is exploration!

I've always wanted to take part in scientific expeditions, especially after watching Laurent Ballesta's dives on Ushuaia Nature when I was a kid. I really liked the idea of bringing a responsible approach to a scientific expedition, to advance science in a sober-minded way. I also like the challenge of human relations in a hostile environment and a sometimes confined space for such a long period, combined with the freedom that life at sea can bring.

Being originally from the mountains of Haute-Savoie, I love the cold! I'll be embarking on the second part of the trip, which takes place at the highest latitudes. From the Caribbean to Greenland, then on to Iceland and back to France, I'm already looking forward to the adventures and extreme conditions we'll face, and the scientific measurements we'll be able to carry out in the North.